HISTORY
The will to always go beyond both the product and the service ...
GME has an extensive track record dating back to the beginning of the 20th century. Over three generations and with 100 years of history, the company has achieved sustainable growth thanks to its ongoing investment in innovation and its exceptional workforce.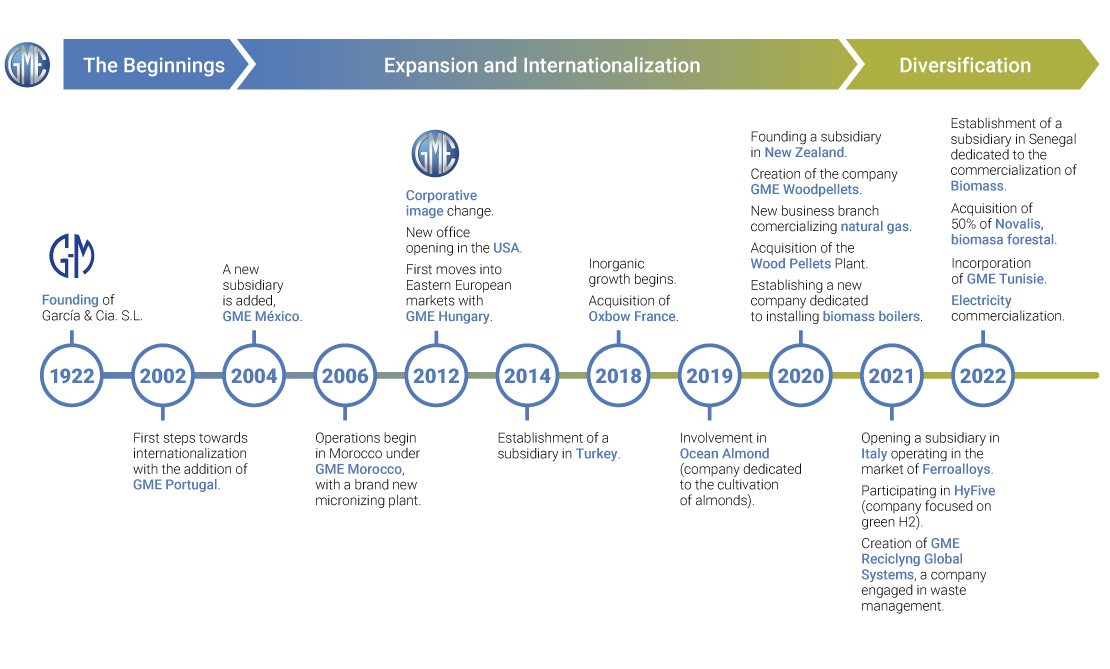 Nació en 1922, al fundar Antonio García-Munté Nuño la compañía García&Cía, que distribuía combustible sólido por el territorio español. Siete años más tarde, en 1929, adquiere Cales, Cementos y Carbones de Pobla de Segur.
In 1952, the company acquired Compañía Naviera Española, which boosted its maritime fuel distribution.
At the beginning of the 1970s, Antracitas de Gillón was set up and, in just a few years, it became the leading company in the area.
This period also saw the beginning of the company's international expansion by setting up Comercial García-Munté, S.A. with the aim of importing and distributing all kinds of solid fuels at an international level.
In 1998, GME, García-Munté Energía, was incorporated for the purpose of ensuring the company's growth and international expansion. The following subsidiaries were set up: GME Unipessoal (Portugal-2002), GME Mexico (2004), GME Morocco (2006), GME USA (2011), GME Hungary (2012), GME Turkey (2018), GME France (2018) and GME Tunisia (2022).
Fruto de nuestra apuesta por la especialización y nuestro constante compromiso con el medio ambiente nacen en el 2020 GME Wood Pellets, GME gas&power, TyPEN, y GME Reciclyng Global Systems. Asimismo nos incorporamos en la empresa Ocean Almond y Hyfive (hidrógeno verde).
GME is currently operated under the leadership of the third generation of the García-Munté family with a workforce of more than 200 employees spread across all the countries where we operate.