Micronized Petcoke
El coque micronizado es una evolución del coque de petróleo. Gracias al sistema de mircronización, un proceso desarrollado hace más de 10 años por nuestra organización, se confieren unas propiedades óptimas para su utilización.
A grandes rasgos, consiste en el secado y molienda del coque a un tamaño de 90 a 500 micras. El combustible consecuentemente mejora sus propiedades, permitiendo una mejora de la combustión en el horno y una reducción de los inquemados.
Estas propiedades se basan principalmente en la homogeneización del producto respecto a su tamaño, contenido de humedad, y aumento de su poder calorífico, que permiten una mejor estabilidad en los procesos de combustión en los que es utilizado.
Además, por su presentación, aporta mejoras en el suministro y almacenaje, comparable al de otros combustibles líquidos o gaseosos.
COMPOSITION
Moisture
 < 0.5%
Ash-2
0.8% max.
Volatiles
14%
Sulfur
2a7%
Fixed carbon
88% min
Pcs kcal/kg
8400 min
| SIZE | INDUSTRY |
| --- | --- |
| 90% less than 100 microns | Lime , ceramice , cement , chemical , suger , metal , paper, alloys , themal,furnace and calcined (clay,magnesite,limestone),asphalt/isolators. |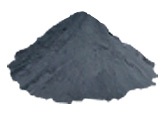 Micronisation provides a better combustion in the fumace and a reduction of unburnt fuel.